app.
Name: Pablo
Male/Female: M
Age: 17
Favorite musical style: 60's inspired garage rock
Ten favorite bands:
1. Guitar wolf
2. The white stripes
3. Old Crow Medicine Show
4. Death from above 1979
5. The mooney suzuki
6. Liars
7. the international noise conspiracy
8. lightning bolt
9. Cato salsa experience
10. thee michelle gun elephant

Five favorite songs of the moment:
1. death from above 1979- pull out
2. the white stripes- astro
3. nazareth- hair of the dog
4. death from above 1979- cold war
5. foghat- i just wanna make love to you

Five favorite movies of the moment:
1. the warriors
2. raging bull
3. quadrophenia
4. mean streets
5. taxi driver

Five favorite albums:
1. the velvet underground
2. the saints- all saints day
3. the who- my generation
4. the kinks- kinks size me
5. the zombies- odessy and the oracle

Do you play any insturments, and what? the organ

~~Opinions~~
Gay marriage: whatever floats your boat

Homosexuality in general: its fine, I think metrosexuals are dumb as hell though,

Organized Religion: if it makes you feel better to not touch yourself because of geetting religously accepted than cool.

Politics: dont follow it

Punks: ummmm aren't we all little fuckers in some way

Drugs: the cornerstone of any healthy body. but still good

Alcohol: taste like pee

Smoking: getting vanilla blunt wraps, then smoking is perfect


~~Other~~
Do you illegally download music: yea
Do you legally download music (i.e. musicmatch, i-tunes): no
Do you use ebay: rarely
What kind of car do you drive: dont have a car
How did you find us (if in lj, please give exact post link): off of other link.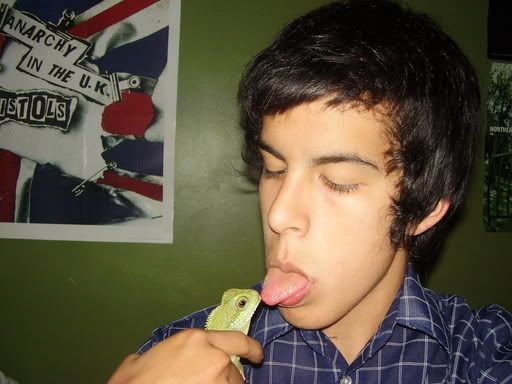 alright'''.